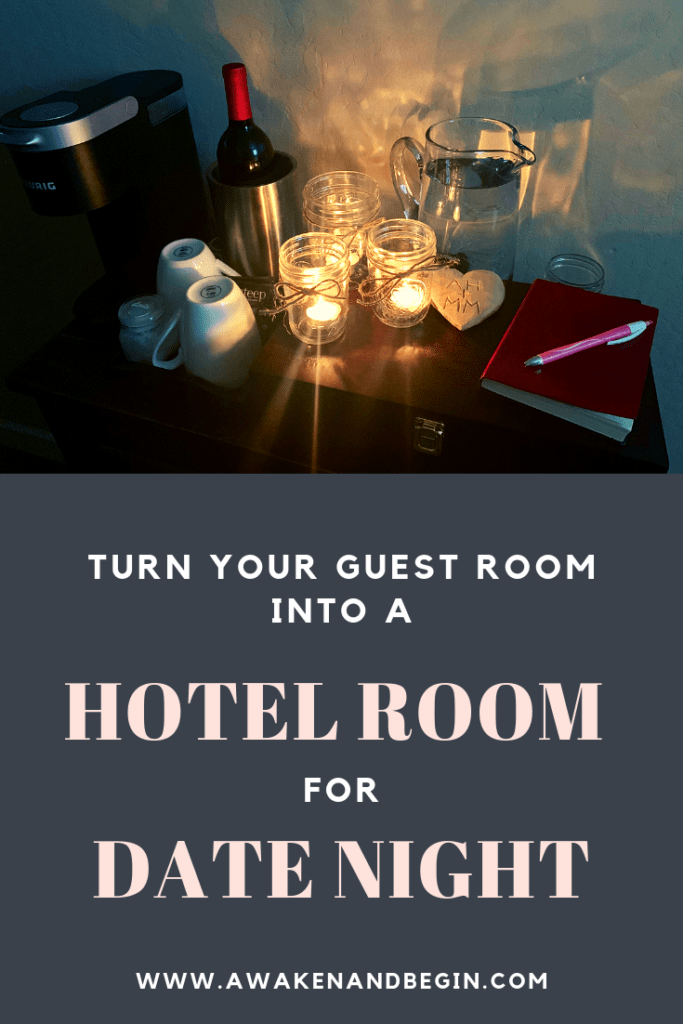 This year, rather than spend the money to go to a hotel or Airbnb and get a babysitter for our anniversary, we decided to do something different. We transformed our guest room into our own hotel room! Here's how you can pretend to get away without leaving your house.
Start with a Clean Guest Room
If your guest room is the catchall for unwanted and/or in progress stuff, you will first need to clean it out to give it the hotel vibes. Even if that means moving the stuff to the garage!
One of the reasons we love getting away to hotels and other vacation getaways is because it allows us to leave behind the in-progress messes and projects at home. We all have things that are unfinished and in progress. That's life!
If your guest room is a place where these projects and piles collect, it won't feel like a hotel until you tidy them up a bit, move them into the closet, or some other place in the house where you can forget about them for a night.
Don't worry, I'm not telling you to Marie Kondo your guest room at the moment. There just might not be time for all that! But if you can at least get the place feeling fresh and clean and decluttered, then you're ready to move on to the next step.
Add the Elements of a Hotel Room that Matter to You
When I think of a hotel room, I think of a coffee station, little toiletries in the bathroom, and an ice bucket. This is such a short list, I know. That's what makes this staycation so easy!
We have a hall table right in the hallway outside of our guest room. I pulled it into the guest room to use as the desk or dresser that you would normally find in a hotel room with the coffee maker etc. on top. You might already have a table or dresser in your room that just needs to be cleared off to give it the hotel feel.
I then put our mini-Keurig on top of the table. We happen to have an extra one. But you could totally just move whatever coffee pot you have in the kitchen into your guest room to create the ambiance of this experience.
I took a small black tray that we already had and added two coffee mugs, a couple of K-cups, and a couple bags of tea and sweetener on top. Add whatever your coffee station essentials are and the coffee station will be done in no time!
I put out a wine chiller holder that we have as the "ice bucket." My husband stuck a bottle of wine in there for the photos and I just went with it. The freezer is steps from our guest room anyway!
I was going to buy water bottles at the store since I normally do that when we go to a hotel but then I realized that was overkill. I just filled a glass pitcher with water and put out two small Mason jars for drinking glasses and voilà! My little table was filling up quick!
I also had seen a really simple, cute idea on Instagram earlier in the week to use Mason jars as candle holders. I grabbed a few from the kitchen, put in some tea lights, and tied a bow around each one at the top with some twine. This was probably the biggest hit of the whole thing. The effect the Mason jars had on the candlelight with the lights off was a nice touch.
Spruce Up the Bathroom Like a Hotel Would
If you have a separate guest room bathroom, you will want to start with a clean, decluttered bathroom just like a hotel would. I recommend taking out pretty much anything a hotel wouldn't have out (like they wouldn't have full-size shampoo and conditioner bottles in the shower). This might not matter to some people but for us, it was nice to have the bathroom hotel feel.
I moved the full-size shampoo and conditioner to another bathroom. I bought a travel sized shampoo and conditioner the last time I was at the grocery store. I kind of wanted them to look a bit fancier, but my husband seemed impressed that I even thought of this detail so that was a success!
I put the mini bottles out on the bathroom counter so it was presented as a hotel room. Next time I would buy a mini body wash too. They didn't have one that looked nice enough to be at a hotel but what hotel doesn't provide body soap? Minor fail!
I also went a little crazy when I had out the twine and tied it in a bow around a couple of rolled up washcloths to put on display on the bathroom counter. This seemed like something a cute farmhouse style Airbnb might do. Husband thought this was nice too!
Don't Forget to Pack
Well, this step is optional. When I came up with this idea I thought I would pack a bag so it felt like we were really getting away. Ha! There wasn't time for that, and it wasn't necessary.
But I would suggest moving things to the bathroom (if you have a separate guest bathroom) that you need for the night and the next morning so you can stay in the hotel mindset. We both keep our toiletries in travel bags at all times so that made this step easy!
As much as I would have liked to have "checked-in" at 3 for the night with all our stuff, since we have two girls 2 and under we didn't really get the getaway vibe until after they went to bed. Thankfully they both sleep through the night so once they were down, we could breathe a sigh of relief and knew that the rest of the night would be uninterrupted until about 8 in the morning.
If you don't have kids and/or have the time, you could take it to the next level and pack a bag to bring with you to your guest room to give it that extra getaway feel. It's nice that the pressure to not forget anything is still off for this staycation.
Plan to Order Room Service
We LOVE ordering room service when we go to hotels. That's like one of the best things about a hotel! We decided that we would wait until we fed the girls their dinner and put them to bed and then order in dinner.
We hung out in our "hotel room" until our Uber Eats arrived, and then we ate in bed (just like at a hotel room) while we watched a movie that we rented on Amazon Prime.
If we didn't have kids, we probably would have ordered in breakfast the next morning. But he had to go to a conference anyway so the next day was a normal day. But it still made what would have been a normal night at home more special.
Hotel Mindset
I brewed a cup of coffee in the morning when it was time to get up and it made the whole room smell hotel-y. After he left for the day I put most everything back the way it was. We probably would leave it up if we didn't have a toddler who could go in there and cause some destruction reaching up on the table for things.
But I at least came up with a few finishing touches that I would like to do the next time we have actual guests in our guest room. I put the mason jars with candles on the bathroom counter out of toddler reach, and left the twine on the washcloths for the next guest (because we didn't use them anyway).
We would definitely do this again! It was totally worth the little bit of effort it took to make a night at home feel special. Just as when we went camping in our backyard, one of the best things was that we didn't have to put energy into packing to go somewhere. Oh ya, and we saved money. So there's that benefit too!
We have always talked about fun ways to make our guest room more like a hotel. It was nice to get to enjoy it ourselves this time! Have you used your own guest room as a getaway or would you try out this staycation in the future? Let me know!