Comment Here
Share some love with a comment
The other day I wanted something sweet but not bad for me and couldn't come up with anything in the house. Somehow the idea of a mocha frappuccino made with coconut milk came to mind. So I googled it and found this recipe by Minimalist Baker. 
I messed it up the first day but ended up with a delicious iced mocha latte by accident. The Minimalist Baker recipe calls for freezing the coconut milk, but I wanted the frappuccino now so I hadn't taken the time to freeze the coconut milk and thought I could get by with skipping that step and just adding regular ice cubes. If you are impatient like me, you could try this, but it does not integrate and you will end up with a very cold iced mocha latte, once you separate out the chunks, which also tastes great!
As I was enjoying my accidental iced latte, I went ahead and froze the rest of the canned coconut milk in ice cube trays as described in the Minimalist Baker recipe. The next day, I was very excited to try making the frappuccino with my coconut milk ice cubes and it worked!
Our Nutri-bullet is currently down for the count so I had to go old school and use the regular blender. It seemed to take a really long time for the blender to break down the coconut milk ice cubes, but if you have a load of dishes to do or something to distract you they eventually break down.
I can't wait to go to the grocery store to get more coconut milk so I can make more of these tasty beverages. It doesn't have an overpowering coconut flavor like you might think since there seems to be so much in it. My favorite frappuccino flavor is java chip with a shot of peppermint, or even simply peppermint mocha. It's the Thin Mint Girl Scout cookie lover in me.
Next time I will be adding peppermint and might even add some Lilly's chocolate chips for the java chip effect. This alternative to Starbucks makes me happy. I modified the recipe to be sugar free because stevia also makes me happy.
I think the coconut flakes could be considered optional. I am not as fanatical about coconut as I am peppermint, and normally would have skipped the step of toasting coconut flakes, considering it too time-consuming of a step for a simple frozen drink. But as a new mom, I kind of indulged myself in the me-time that it took to toast the coconut flakes while Michael took care of Claire. And it was a Sunday morning so it felt like a luxurious thing to do in the kitchen.
Here is my stevia-sweetened take on this genius recipe (why doesn't Starbucks make them like this?):
Serves: 2
Ingredients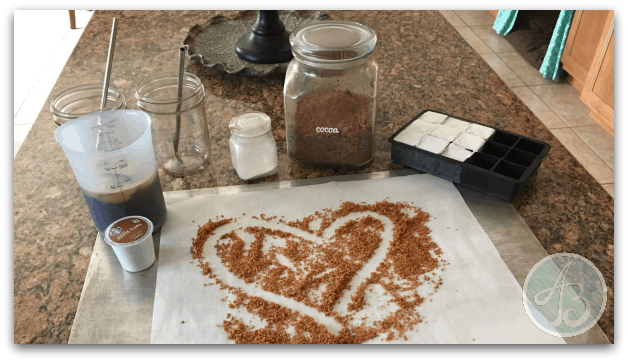 1 cup iced coffee (we have a Keurig – I used a large container with ice and brewed 1 K-cup on the smallest size)
~ 1 can coconut milk to make coconut milk ice cubes – use 8 cubes for recipe (I had a can of coconut cream in the pantry – I'm sure other dairy milk alternatives would work)
1 Tbsp unsweetened cocoa powder
stevia to taste (I used about 2 scoops)
Optional
1/4 cup unsweetened coconut flakes
Instructions
The day before, pour milk into an ice cube tray and freeze.
If feeling adventurous, toast coconut flakes by spreading on a baking sheet and cooking for 3-5 minutes at 350 F. Reserve a small amount for garnish.
Place all ingredients in a blender and wait patiently for ingredients to integrate, adding more milk cubes or iced coffee to thicken or thin as needed.
Let me know if you try this – hope you enjoy as much as we did!