We have dreamed about owning a tiny house for years. Ironically, we lived in a 3000+ square foot home until our recent move.
Time to Move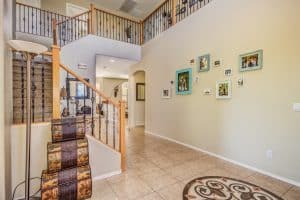 The electricity bill for our McMansion was through the roof here in the Phoenix area. I could never keep up with cleaning the large expanse of tile in the foyer where a tiny house could comfortably park.
I had been thinking about moving for about a year when I brought up the idea to my husband. I proposed the idea of buying land and building a small, cozy house where we had the rooms that we needed in the sizes that we needed, and where we could also park our eventual tiny house in the yard, to be used as a guest house and extra living space.
The idea of building a small, cottage-like house was inspired by our stay at the Little House in Little Rock a few years back over Thanksgiving. While not an official tiny house, the Little House had all the charm and coziness a tiny house could offer with all the cuteness of little spaces and appliances. I remember sitting in the small but more than adequate kitchen and feeling sure that I could happily live in a space this small and cute.
He loved the idea as much as I did. The problem was that we already had more to do than we had time for and getting involved with building a house was something neither of us had the time or experience for. But we decided one thing for sure: we were ready to sell our house.
While we started the process of listing our not so tiny house, I started looking into what building a house from scratch would entail. I tracked down Lyndsey, owner of the Little House in Little Rock. She was so kind to talk to me about finding her floor plan, how much it cost to build her house, how she felt about it, etc. I enjoyed talking to someone who did something so unique.
The idea to build our own place was feeling like a step we might be able to take in 5 years, so we started talking about getting a tiny house in the meantime. It would be an adventure with 2 girls under 2, but it might be our last chance to live the tiny lifestyle full time before they got too big. I applied for tiny house shows and even spoke with a casting person for Tiny House Nation. Michael found a tiny house builder who incorporates slide-outs and I spoke with the wife of the husband-wife duo.
In the meantime, we were preparing our house for showings, I was getting more and more pregnant, and Claire was becoming more and more of a toddler. We were also looking at houses for sale and rent in the hopes that we would find a place that fit our needs at least temporarily.
We put our house on the market in June. It sold for full price in July and the pressure was on to find a place to live. I looked at I don't know how many houses, but nothing felt right. Then our inspection happened and our buyers backed out due to an unfortunate bird (pigeon) overpopulation in our neighborhood and specifically on our roof.
Being in the very pregnant state that I was, I cried not for the last time over trying to get that house to sell. Claire was becoming increasingly obsessed with running up the stairs and the house was feeling less kid-friendly by the day. I knew we had to get out, but waiting for a second buyer with the looming deadline of giving birth was torture.
Just when we were about to take our house off the market, our realtor texted me about our eventual homebuyers the day after Emma was born while we were still in the hospital. We had to do one final showing and had one final scare that they might back out, but fortunately they loved the house and went through with the offer!
Our Dream Prepared Us for Our Reality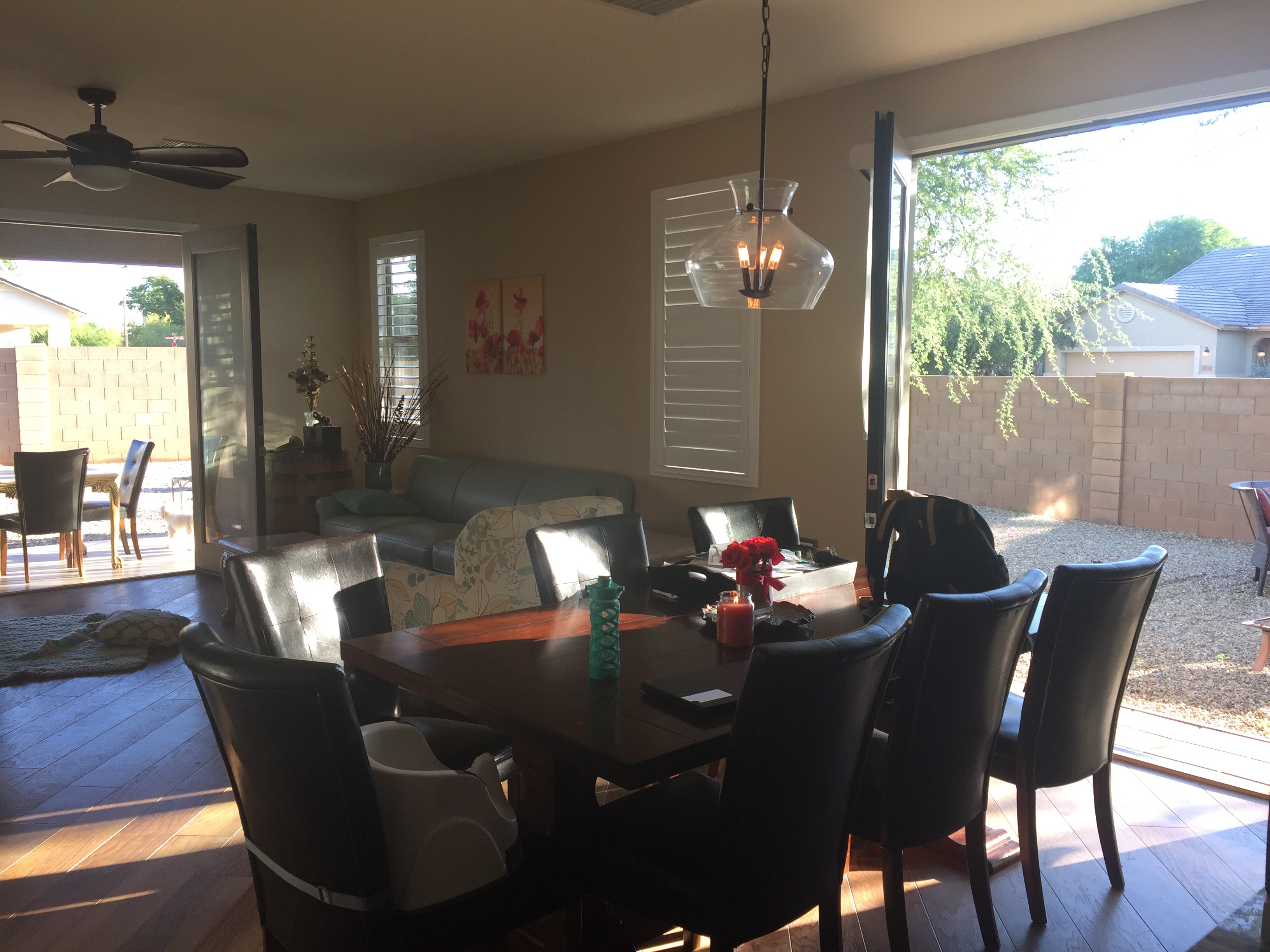 It was once again time to find a place to live. Newborn Emma and I went out with our realtor on a rainy day and had 3 houses to look at. The first one was a nice enough home for sale. It had an extra living space at the front entry way that I didn't know what to do with, like many of the other houses I had looked at during the first round of house shopping. It was an ok house, but it didn't give me that feeling that this was The House for us. The second house was a rental that smelled like smoke the instant you walked in the door, so that wasn't going to work.
I happened across the listing for the third house the day before and was excited about seeing it. It had hardwood (looking) floors, 4 bedrooms, 3 full bathrooms, and an RV gate. This was pretty much everything on our wishlist.
Emma and I came up to the front door. When we stepped in I immediately felt like I was walking into a picture on Pinterest. It was so cute! I probably got halfway through the living room when I had "the feeling". The feeling that this was The House! The more I walked through the rooms, the more it felt right.
I went into the master that had the same double doors as our master in our big house, and just loved it. I walked into the master bath and saw the gorgeous glass door shower and completely upgraded bathroom. I noticed that there wasn't a tub in the master, but wasn't going to let that stop me from liking the place. The realtor called from the other room that there's a tub in the other bathroom.
I walked out to see the other bathroom, also completely upgraded. I walked through the house and asked if this was the house with the RV gate, hoping so much that it was. And she confirmed that yes it was! We could still keep the tiny house dream alive, live in a smaller, one-story house, and be perfectly happy with our home.
I walked back through the hall bath, looked at myself in the mirror, and told myself that I was willing to live in a tiny house with 4 people and one bathroom – I could be more than happy in this house with one tub in the hall bathroom. It was all the tiny house videos and tiny house talk that had prepared me to love this smaller, cozier house with one bathtub. It was all our discussions about how we could get the girls to share a room in a tiny house with 2 bedrooms that got us thinking that we really didn't need a 5 bedroom house. Four bedrooms is more than enough!
And we really didn't need a separate den for Michael. He could use bedroom number 4 for now, and eventually we will have a tiny house which I know he will love to use as his den when the girls get older and are ready to have separate rooms.
We have a beautiful separate guest room with a private bathroom right off the entry hallway, which is very similar to the setup we had in our old house (sans enormous and unnecessary foyer). The kitchen, dining, and living are all one big room, just as they would be in a tiny house. And I couldn't love it more. The kitchen is easily a quarter of the size of our old kitchen, yet somehow we still manage to have more than enough storage for all our kitchen items. We have a beautiful island just as we did in our old house, and an adorable side bar/coffee station with additional storage.
We Found Our Dream Home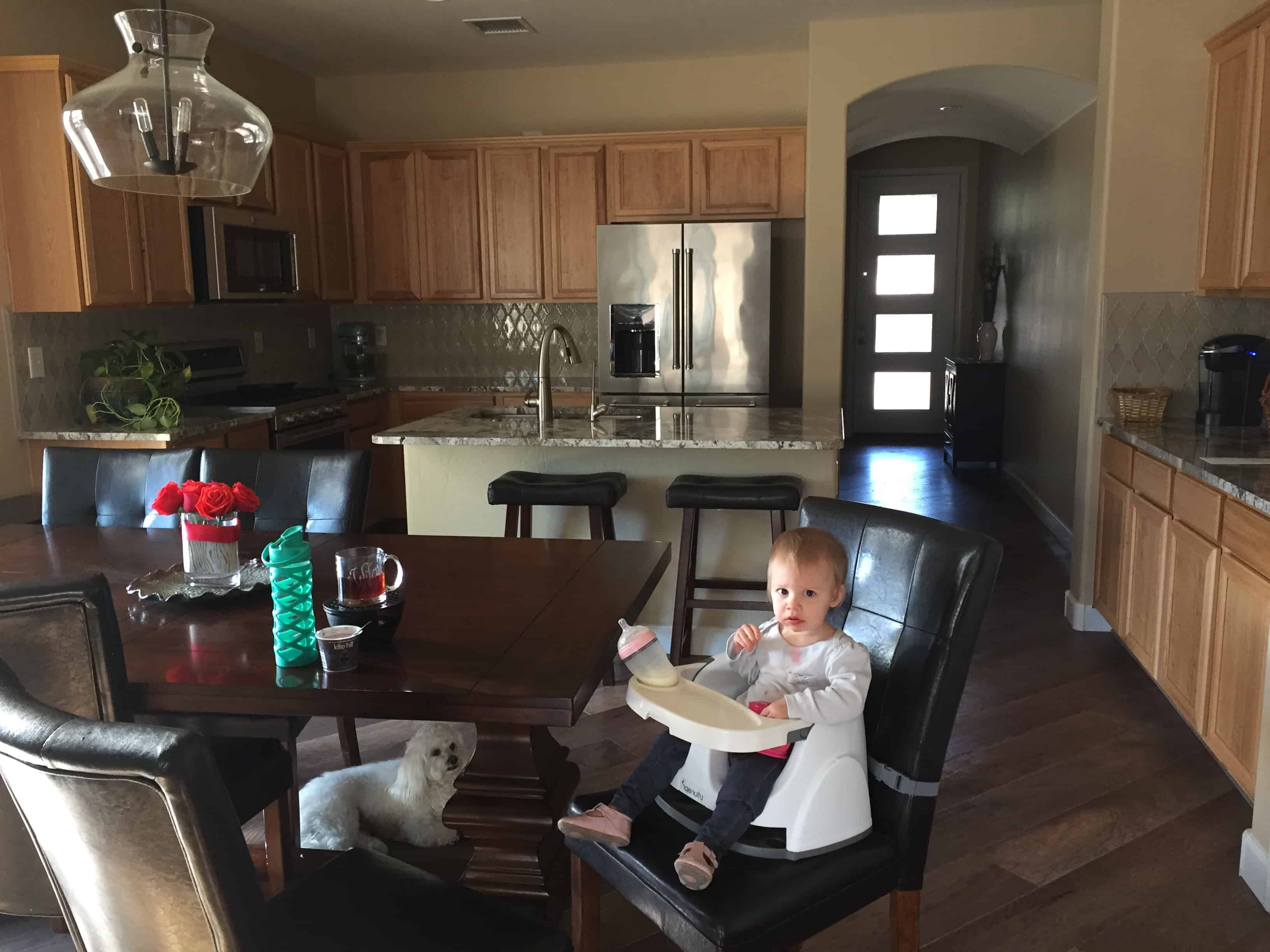 When we first started talking about building our own cottage-like home back in May, this house that I am sitting in was exactly what I was talking about. It's hard to believe that after all those months of uncertainty about where we would end up, we landed in the most perfect home for our family.
I didn't dream up this layout or the finishes, but I couldn't have chosen a more perfect layout or custom details for our home. We have talked about it and realistically we probably never would have gotten to the point of building our dream home. Building a house is just not something we are equipped to do. But the previous homeowner remodeled this place and we are so grateful to her for that. It was move-in ready and already customized to be just the right place for us.
I like to refer to our house as our Big Tiny House. We still dream of having a tiny house on wheels that we can take up to Flagstaff for the weekend or an extended trip. I don't doubt that someday we will have our very own dream tiny house.
For now, we live in our dream home. I'm so glad that we bought the too big house early, because now I will never be a person who wishes I have a bigger house. I won't spend the next 10 years wishing we had more or thinking that bigger is better. At just over 1600 square feet, I will always feel that smaller is better (for us!). Now I see big houses and think "no thank you!"
Do you prefer a smaller or bigger house?