Comment Here
Share some love with a comment
My favorite smoothie is my peanut butter banana smoothie and its yummy variations (my latest favorite will be posted tomorrow!).
My fiancé likes to drink protein smoothies for breakfast on days he goes to work. I don't think it is necessarily for the taste. This is more of a utilitarian smoothie. I tried to do protein smoothies a while back when he got into them, but I couldn't add enough peanut butter or bananas to mask the taste of the protein powder. We even tried to make a green smoothie with protein powder and almond milk once – I would warn you to not try this! You might be scarred for life!
The protein smoothie isn't all that bad, and we have tried to add other ingredients to make it more palatable. I share this smoothie recipe not because I am particularly excited about this specific drink (can you tell?) but because I am so excited about the system I came up with for preparing the smoothies ahead of time so I could easily make them in the mornings without having to pull out 10 different things from the cabinet.
I came up with this idea after my idea of preparing green smoothie ingredients ahead of time and storing them in baggies in the freezer. As you will see, the ingredients for this particular smoothie are mostly dry, allowing them to be stored in an airtight container in the cabinet, simplifying the smoothie making process.
One day I was making a protein smoothie and figured I would try to see if the dry ingredients would fit into one of the cute little spice jars we are using for our labeled spice collection. They did!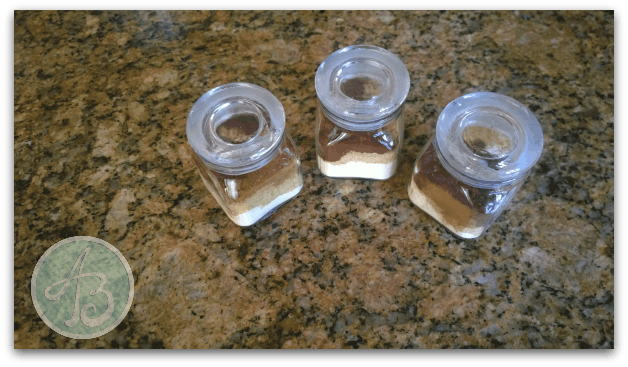 I am currently making three at a time once a week because that is the number of extra empty jars we have on hand. Coincidentally, this is the number of days a week my fiancé works for now so it works out perfectly for planning his breakfast meals for workdays each week.
Ingredients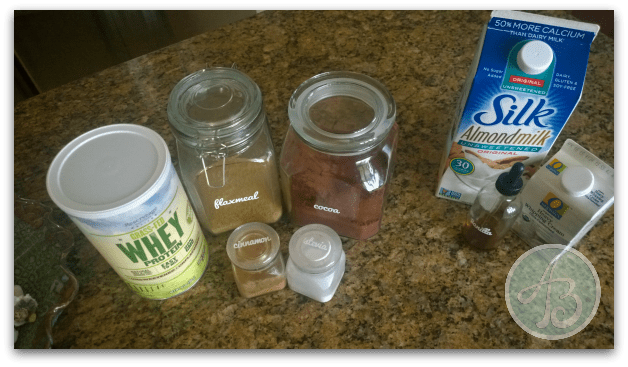 1 serving plain protein powder
2 tablespoons golden flaxmeal
1 tablespoon dutch processed unsweetened cocoa powder
½ to 1 teaspoon cinnamon
1 serving stevia powder
½ to 1 teaspoon vanilla
4 ice cubes
almond milk to cover ingredients and ice
2 tablespoons whipping cream
Directions
If you are preparing in advance, combine all dry powder ingredients in an airtight container and set aside. When ready to make a smoothie, combine dry ingredients, add ice and vanilla, and top off with almond milk and whipping cream. Then blend.
I love finding ways to simplify and plan meals ahead with most of the prep work behind me when the time comes.
What are your meal planning tips? Please share your thoughts!