Comment Here
Share some love with a comment
Yoga is my movement of choice. More than any other activity, this exercise takes into account the complete person. Not only does yoga perfectly address the body's physical needs for health and well-being, it also considers the need for balance of the mind and spirit.
After falling out of regular yoga practice for several years, I have noticed tremendous benefits from getting back into a practice in my own home. I currently don't regularly attend classes at a yoga studio (although I plan to get back into that habit soon!). I have been keeping it simple with at-home videos, primarily those available on Hulu (Yoga Zone is my favorite).
Traveling Yoga Mat
Earlier this year I got the idea to start traveling with my thinnest yoga mat folded up in the bottom of my suitcase so I could maintain my morning routine of yoga and meditation away from home. It worked quite nicely, and got me thinking about taking it a step further and seeking out yoga studios at travel destinations on a regular basis.
Several months ago, I started thinking more about my new plan to visit a yoga studio while traveling. Although I have since missed a few opportunities during other trips, my first travel yoga experience happened on a trip a few months ago to New Orleans.
I researched yoga studios within walking distance of our hotel on Yelp, read reviews, and looked up the class schedule. I made sure to get to bed at a reasonable hour the night before (by midnight), and set my alarm for the next morning.
Travel Yoga Experience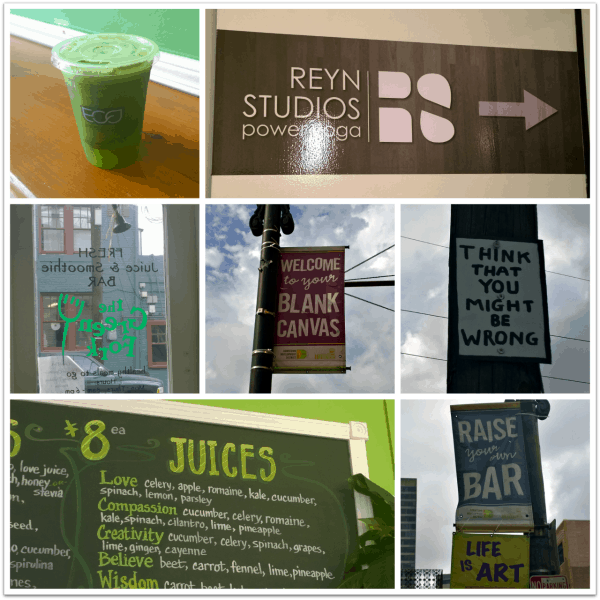 I went to the 8:30 a.m. class at Reyn Studios. It was perfect. The room was warm, and the studio was so beautiful and serene, with the facing wall completely replaced with windows overlooking the downtown area, giving it an urban feel. The class was small with about five or six students. I loved every minute of it.
Since I have recently gotten into making green smoothies at home, I was also inspired to find a local juice bar within walking distance after class. I was having difficulty deciding on a few in the area, so I asked one of the girls working at the studio. As expected, her face lit up when I asked and she said "I have the perfect place for you!" and pointed me in the direction of a quaint juice bar less than a mile up the road.
I got my green juice, and enjoyed the walk back to the hotel while listening to my favorite music, and noticing inspiring signs in the city along the way. What better way to start the day?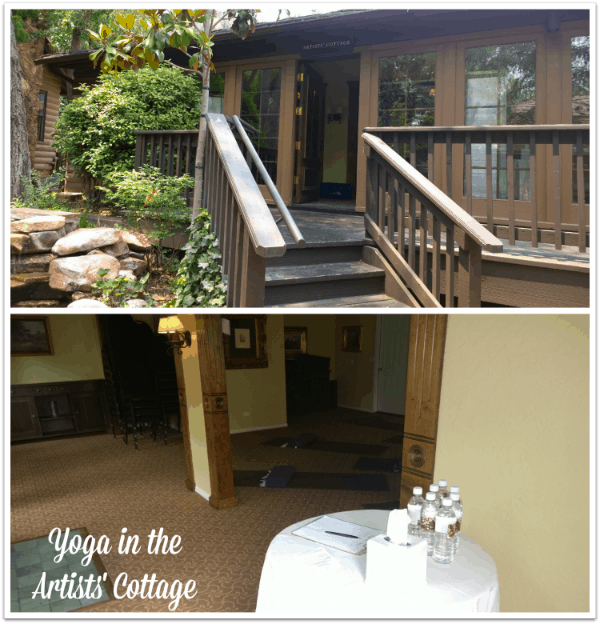 My next travel yoga experience was during a recent trip to Sedona, AZ. I took an 8:30 a.m. yoga class held in The Artists' Cottage at L'auberge. Again, the class was tiny, with only four students total. This class was also the perfect mix of relaxing yoga stretches and meditation.
Choosing Relaxation
Both times, I could have slept in and skipped the class (like I have on nearly every other trip I have taken). I strongly considered it, but knew I would feel so go after taking the class. I certainly don't regret either experience or missing the extra sleep time.
About a year and a half ago, I was given the opportunity to do beach yoga over my birthday weekend while on a short trip to Hermosa Beach, CA. The hotel on the beach was gorgeous, and I can only imagine that the beach yoga would have been just as memorable. Unfortunately, I had a hard time choosing relaxing activities for myself with the chaos of my everyday life buzzing in my mind, and at a time when I needed it most!
I still have yet to do beach yoga, but hope to at the next chance I get. In the meantime, I now see the value in taking time during a trip to get centered and let the rest of the world go.
Maybe yoga isn't your thing. Perhaps it's running, walking, hiking, Zumba, or something else. Whatever the activity is that you enjoy, why not enjoy it from a different point of view duing an upcoming trip? Traveling can be stressful under the best of circumstances. Carving out even just a few hours for yourself will go a long way, and might turn out to be one of the more memorable parts of your trip.
Do you have a travel ritual the keeps you calm and centered? Let us know below. Namaste!
image credit: TheIrishMaeve