Comment Here
Share some love with a comment
"Do your little bit of good where you are; it's those little bits of good put together that overwhelm the world."
―
Desmond Tutu
After buying a house about a month ago, it was time to meet the neighbors. It seems to be common for people to not know their neighbors, or worse, for neighbors to be feuding over some trivial detail from 10 years ago.
I have not really been a person to get to know my neighbors in the past, and certainly not the one to take the first step in introducing myself to others. That all changed over the past few weeks.
The Reverse Welcome Wagon has been an idea of ours for several years now. Having rented a house for the previous three years, it was one of those things that we always wanted to do but never got around to. This time, we made the effort to make it happen and are so glad we did.
The Reverse Welcome Wagon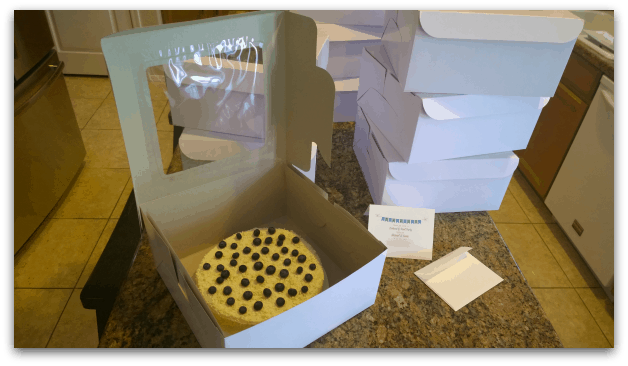 I don't know that I have ever witnessed a real life Welcome Wagon. It seems to be one of those things from the 1950s or TV shows and movies re-enacting that era, or at least some idealistic form of small town American charm. It is certainly a lost art form, and one that we were hoping to somewhat revive as the newest members of the neighborhood.
My fiancé, Michael, and I started out by deciding who to include in this role reversal of a tradition more common in years gone by. Before buying our current house we would talk about which houses would be included; the next door neighbors were no-brainers, but what about the ones next to them, and the rest of the street?
Fortunately, the house we ended up buying is on a cul-de-sac at the end of a street with 10 other houses. We decided to include the whole street, and also the two houses that are bordering our backyard on the next street over. The idea was to deliver baked goods and an invitation to a party to get to know the people sharing our immediate piece of the world.
Cheesecake Baking & Party Time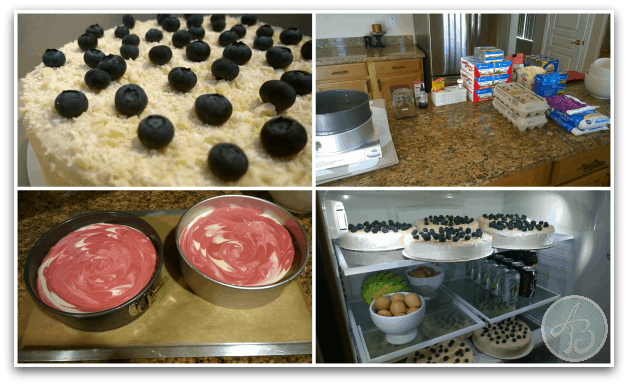 We then proceeded to bake a cheesecake for each of these houses. I ambitiously estimated that I could single-handedly bake 10 red velvet cheesecakes on a Sunday. It turned out that it took us about a week to bake, at a pace of two cheesecakes per day.
Once the cheesecakes were baked and decorated, we boxed them up and printed up invitations to a cookout and pool party the following weekend. We decided to visit houses on a Saturday evening, the day after the 4th of July.
For the most part, our Reverse Welcome Wagon was well received. We got to meet all of our neighbors (with the exception of one house), and also learned which houses are currently empty (future actual Welcome Wagon targets!).
Having an "introduce yourself to the neighborhood cookout" also seems to be one of those things that is only represented in TV shows or in movies, but isn't so common in real life. We had a great turnout, and were showered with flowers and housewarming gifts from our new, friendly neighbors.
Creating Your Own Reverse Welcome Wagon
Have you recently moved or do you have an upcoming move? Consider creating your own Reverse Welcome Wagon in an effort to get to know the neighbors. Even if you have lived in a neighborhood for several months or years, who says you can't go door to door and invite people to a cookout just because?
Start by deciding who to include in the neighborhood tour.  If you live on a long street (or hallway :)), it might make sense to include two or three neighbors on either side and the neighbors directly across the street.
Keep in mind that you can always expand your neighborly circle as time goes on once you get to know the immediate neighbors. We learned through a near neighbor that there is supposedly a quarterly neighborhood meet-up at a park within walking distance from our home. Another opportunity to meet people in the community that we might otherwise not have known about.
I would recommend bringing something to break the ice, because it might help with getting past the awkwardness of introducing yourself to the new people. Pick something that you enjoy. A basket with baked goods or something local from your previous residence would make for great reverse housewarming gifts.
Along with the gift, consider including an invitation to a get together with your contact information. We included our cell phone numbers and an email address, so even if they didn't attend the party, our neighbors would have our information if they ever needed it or wanted to contact us in the future.
We were largely accepted and welcomed by our neighbors. There was only one cheesecake decline (I can only assume due to religious dietary restrictions), and only a few houses that either didn't answer the door or didn't respond to our party invite. There are good things that can happen when we put ourselves out there, even if it feels awkward or seems that it will be perceived as weird.
How do you get to know the neighbors in a new place? Share your thoughts!