Comment Here
Share some love with a comment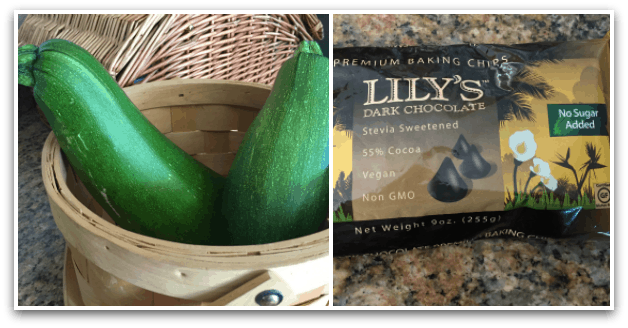 We got these gigantic zucchini given to us from a local garden so it was definitely time to make this recipe! This recipe is adapted from Make the Best of Everything. I made a substitution for the sweetener, using stevia of course!
I also added Lily's Dark Chocolate Chips, which are sweetened with stevia and erythritol. The Lily's brand of chocolate tastes great, but I believe the erythritol is upsetting to my stomach so I have to limit how much I have in a day to a small (tiny) handful of chocolate chips.
I like the stevia-sweetened chocolate I make better for this reason, but they don't do well as chocolate chips in recipes like pancakes and these muffins, so it's nice to have the chips on hand for baking (they are cheaper at Whole Foods than what I have found on Amazon).
Flourless Zucchini Muffins Recipe
Prep time: 15 minutes
Cook time: 30 minutes
Total time: 45 minutes
Ingredients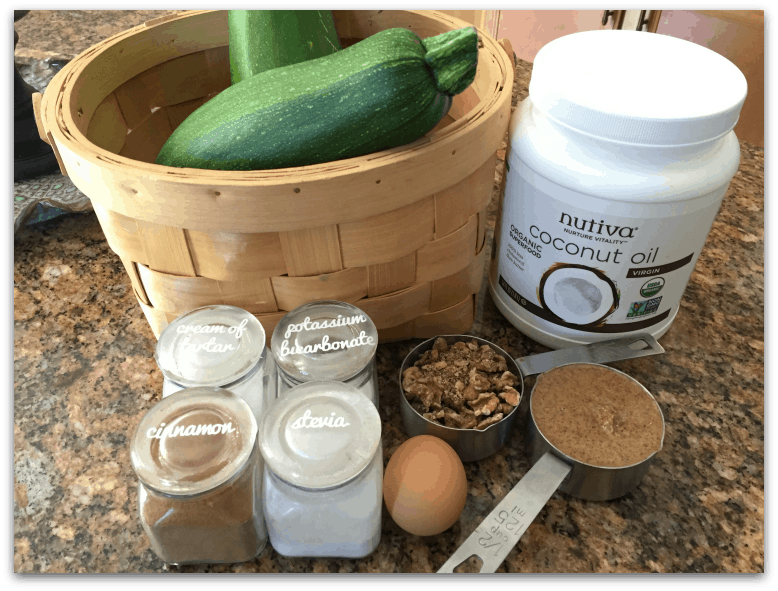 1/2 cup of chopped walnuts
    1/2 cup of almond butter
    7 scoops stevia (note: amount of stevia may vary based on brand of stevia used and personal preferences; you might want to mix everything without the egg and taste after 5 or 6 scoops to see how sweet you want the muffins to be)
    1 egg
    1 large zucchini, shredded and dried (I used half of the smaller zucchini pictured. A typical large zucchini from the grocery store is what I normally use)
    1 teaspoon of baking soda
    1 teaspoon cinnamon
    1 tablespoon of coconut oil
    Lily's chocolate chips (optional)
Instructions 
Preheat oven to 350 degrees. In your food processor, pulverize walnuts until they are almost a butter. Add the rest of the ingredients (except chocolate chips, if you are adding them) in your food processor and mix everything together. Mix in chocolate chips with a spoon. Grease silicone muffin cups and add the batter. Bake at 350 degrees for 30 minutes.
Notes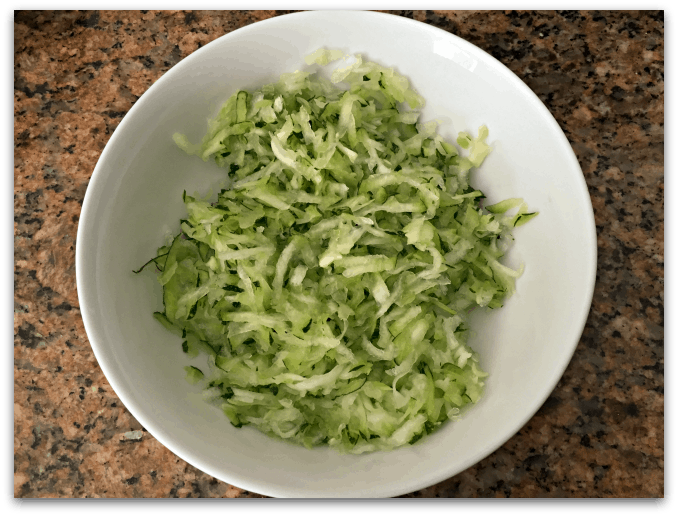 To shred & dry zucchini, shred with cheese grater into colander lined with paper towels, then squeeze out water with paper towels on top (don't worry about leaving some moisture in the shredded zucchini).
I substitute potassium bicarbonate for baking soda. I always forgot how the substitution goes, so in the picture I included cream of tartar because that is part of the substitution for baking powder and I hadn't looked it up yet. Cream of tartar is not necessary for this recipe.
I freeze the extras and save them for a rainy day that I don't feel like cooking breakfast. They are just as good reheated!
Do you like zucchini bread or muffins? Let me know what you think if you try this recipe!