Comment Here
Share some love with a comment
Planners have been an obsession of mine for quite some time. My first "hipster" was given to me as a birthday present a few years ago. The idea of a hipster is that you can completely customize a compact collection of information that you want to carry around with you at all times without the organizational limitations and expense of buying a planner.
I personally still like to call my system my "hipster" even though I have now transitioned to a digital platform, mostly because I think the name is cute and cool. Anyone could create their own homemade planning system and call it whatever they want. The point is to create something that you want to use, because that increases the likelihood that it will serve the purpose it intended: to make your life more simple, efficient, and peaceful.
Originally, my hipster was paper-based and had many categories. At the time that I first started using it, I did not yet have an iPhone. I had previously been using a Franklin-Covey planner system, and although I loved my planner and lived by it, my life felt extremely chaotic. Don't get me wrong, my hipster wasn't responsible for removing the chaos from my life, I did that after extensive personal reflection and carefully planned out choices, but the hipster now plays an even more effective role in my life now that I feel more connected to the categories it contains and the types of information I allow to get recorded in that place.
The Makings of a Hipster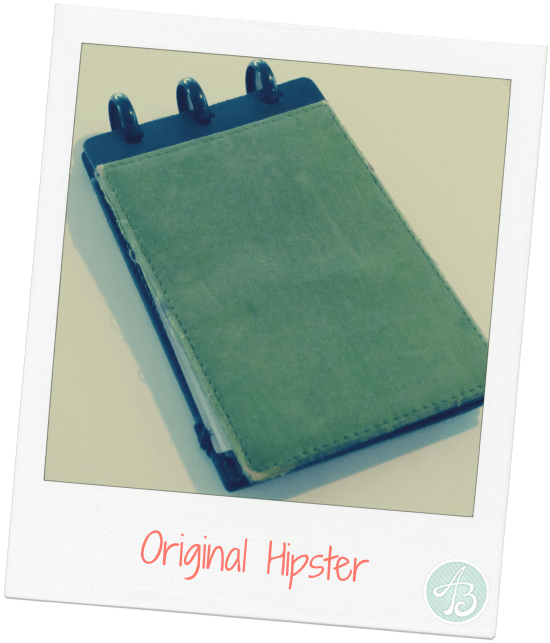 My original hipster was a mini-folio product from Levenger which used circa discs and consisted of 3 x 5 note cards that I punched with a circa puncher to fit in the folio. I even had customized templates for the cards to print (part of the amazing birthday gift) so I could easily maintain distinct categories, such as To-Do, Periodic (periodically recurring tasks), Shop, Reference, and Calendar.
The problems I encountered with this system were probably largely due to my inability to make good decisions about what I actually wanted to get involved with and what I should have just said no to. But that is a whole different topic. Any system would have worked if I had used it appropriately. Kind of like how practically any of the thousands of weight loss plans out there would work for someone who actually did everything the plan called for.
The first category of the hipster that I digitized was the calendar. Once I got an iphone, I loved using the ical app, and love even more that it syncs to my gmail, in case anything ever happens to my phone (which knowing me, is a likely possibility). The calendar is meant to contain only scheduled items, not to-do items. I will admit that I am still guilty of putting reminders to do certain things on my calendar. It is a bad habit that I am working to break, but for the most part the calendar functions well for recording the schedule items I need to keep track of in one consistent and easily accessible location.
Beyond the calendar, all other categories of my previous paper-based hipster have either become digitized in my new hipster stack in Evernote, or I just decided I didn't need them. I have also added or renamed a few categories to those that made more sense to me, as follows:
– Blank:
Blank is my version of having blank paper around, but instead of carrying a notepad and pen, I have my phone on me at all times, so if I am out and someone recommends a song or a show or gives me some other type of information that I am not sure where to put in the moment, I can open my hipster in Evernote, tap on blank, and start typing. I also got rid of the notepad app on my iphone, because as handy  as it was to use, I found that I would just open that to jot down thoughts, ideas, and information that I wasn't sure where to categorize in evernote, but then I ended up with a bunch of notes I had to later go through and organize. I actually try not to use my blank note for this reason, so there is not a pile to go through later. Also, I put a "-" in front of the word Blank so it floats to the top of the list, and is therefore quickly accessible. I also have a "-" in front of my hipster notebook stack for the same reason.
For the other categories of my hipster, although I have discussed these previously, I am going to describe how I use each of the following hipster categories in a future series of posts, Namaste!
Affirmations
Goals
Quotes
Reference
Reference – Shared
Reminders
Reminders – Weekday
Rituals
Rituals – Weekday
Shop